So far this week, we gave a general recap of last week's Winter Meetings for the TinCaps' traveling party and shared Keith Winter's acceptance speech for winning the Single-A Sports Turf Manager of the Year Award.
Here's more from Keith on the experience he had in San Diego…
Sunday, December 7
As our plane from Fort Wayne waited for a gate at the Dallas/Ft. Worth airport, our connector flight to San Diego closed just before TinCaps President Mike Nutter got to our next gate. While waiting for my carry-on after we finally docked, the pilot walked up the jetway complaining that "the gate had been available the whole time." It seems what we had here is a serious lack of communication! We arrive in "America's Finest City" three hours later than expected. Our subsequent rental car experience at PAYLESS made it quite clear that you do get what you pay for. The lengthy wait did give Mr. Nutter the chance to be briefed by my wife on "how there is no such thing as a free lunch" (circa 1981- Bill Hawk).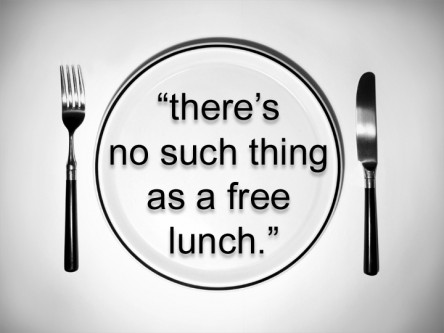 Monday, December 8
The three-hour difference in Eastern vs. Pacific time made the 12:15 PM Awards Luncheon seem like dinner. Nevertheless, after I stepped to the podium and gave my acceptance speech (see below) before the 1500+ in attendance, master of ceremonies Matt Vasgersian of the MLB Network asked the crowd for "a show of hands if they thought that Keith Winter of the Fort Wayne TinCaps is a better public speaker that three-quarters of the major league media relations directors." A nice shout out for our club, and I guess after spending 25-years as a television broadcaster, that I should be able to break the traditional "groundskeeper" stereotype.
After the luncheon, the four sports turf award winners (AAA, AA, A, Short-Season/Rookie) participated in a seminar/workshop where we answered questions and provided insights for other minor league executives and personnel. I am always amazed at how many teams are unhappy with their field, and thankful for what we have to work with here in Fort Wayne.
Tuesday, December 9
I met San Diego Padres head groundskeeper Luke Yoder and his assistant Peter Hayes at Petco Park for lunch along with a look at the field. We had some good fellowship and sharing, but there was little to look at from a field perspective as the Padres' "Winter Holiday Carnival" covers the entire playing surface. When that wraps up after the first of the year, next is Monster Trucks and then Motocross. Around the first of March, they will then tear out the battered turf and replace the entire playing surface. San Diego's almost perfect year-round weather warrants use of the ballpark for hundreds of special events. It was hard to see one of baseball's best playing surfaces reduced to a grazing ground for live reindeer.
Tuesday evening, the Padres hosted a reception for all their minor league affiliates in the home clubhouse. The food was excellent and included the best "fresh-made" Southern California tacos I have ever eaten! Got to meet and greet new Executive VP/GM, A.J. Preller, new director of player development, Sam Geaney, and spent over half an hour with newly named Scouting Director, Mark Conner, who has been a frequent visitor to Parkview Field. To say the least, the Padres are getting younger in the front office. Padres manager Bud Black and most of his staff were there along with former Padre greats such as Randy Jones (only Cy Young winner in team history), and all-time saves leader Trevor Hoffman. It was fun to see former TinCap player names like Liriano, Spangenburg, and Quackenbush among the name tags in the classy clubhouse. It is true, you have it made once you arrive in the big leagues!
Wednesday, December 10
The morning Baseball Chapel breakfast started the day at 8 AM, with some encouraging words from the guest speaker and opportunity to fellowship with other Christians who are living out their faith in professional baseball. Major leaguers on hand included Twins manager Paul Molitor, Cardinals skipper Mike Matheny, and former Braves great and current broadcaster John Smoltz. Of course my wife "had to" talk with Smoltz since he was a favorite our middle son as he was growing up in the 90's. Baseball Chapel continues to be a source of encouragement and strength for players, coaches, and front office personnel in major and minor league baseball.
The closing "Gala at Petco Park" on Wednesday evening opened the concourse and field to all registered minor and major league winter meeting attendees. There were thousands of hungry AND thirsty participants, so after checking it out, I decided to enjoy our final night in San Diego with a quiet, Italian meal with my wife in downtown San Diego's Gaslight District. If you ever have the opportunity to visit  S.D., it is definitely worth the trip.
Our thanks to Keith for sharing his journal from the Winter Meetings. If you want even better insight to the experience, ask him to compare it to the first ever Winter Meetings in '81.
One thing that was fun for Keith, and many others, back then and stays true today is the true baseball wheeling-and-dealing that gets done. And for the first time in a while, the Padres are in the middle of it. Tomorrow we'll try to get caught up on the most recent moves San Diego has made, which include many a former recent TinCap.
Thanks for reading, and please be in touch in the comments below, by email, or on Twitter@John_G_Nolan.
P.S. If you're still shopping for the holidays, don't forget to visit The Orchard Team Store at Parkview Field, the seasonal location at Glenbrook Square, or online here.