Wrecking Ball
We're going to change things up here today. Rather than conclude our post with our "Musical Guest" as we usually do, we'll start that way. This will also suffice as our recap of Sunday's TinCaps-Whitecaps game.
MUSICAL GUEST
So, yeah, Fort Wayne lost 19-1 — the most lop-sided loss in the franchise's 21-plus-year history. If you are a masochist, though, you can see some of the carnage below. Viewer discretion is advised.
WOOF
Given how this was Bark in the Park Day, this fan put it best…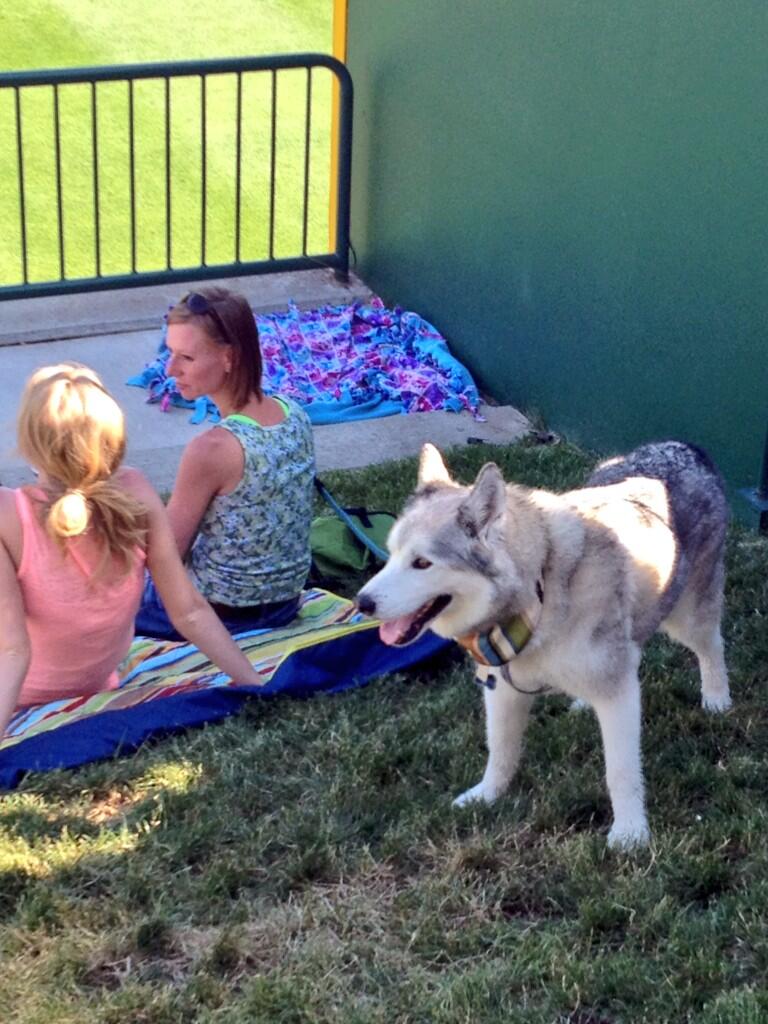 "Woof."
BIG LOSS, BIG FUN
Joking aside, Sunday was actually a perfect example of why Parkview Field is such a great experience for fans. In 2014, there's far more to a baseball game than just a baseball game. Besides dogs roaming in the outfield, it was also Stitch N' Pitch Day, drawing in a group of knitters and quilters who you'd probably put on a Venn diagram with baseball fans — TinCaps being in the overlapping part of the circles.
For kids, there's the rock-climbing wall and inflatables in the Kids Zone, plus the batting cage area with radar gun to test how fast they can throw. Even on a day when the team lost by 18 runs, you have to admire how all of the TinCaps' players still signed autographs on the field following the game.
Unique to yesterday, former Brooklyn and LA Dodger Carl Erskine performed both the National Anthem and Take Me Out to the Ballgame during the seventh inning stretch on his harmonica. Carl, who's from Anderson, Indiana, is 87!
Again, even though it was a tough day for the TinCaps on the field, it was a special sight to see Carl — a man who threw two(!) no-hitters in his career, was an All-Star in 1954, and a World Series champ in 1955 — go into Fort Wayne's dugout and shake hands with the team. Erskine, who has a biography worth reading, was born in 1926. TinCaps players were born between 1990 and 1995. Yet, the game unites them. It was cool to see Carl show the interest in Fort Wayne's young players, and, simultaneously, see the TinCaps' players shrug off a bad day and show respect for a former great.
TUBBY TALK
While we have pointed out how historically bad the TinCaps were on Sunday, let's not forget that going into the game, Fort Wayne was playing its best ball of the season. The TinCaps had won eight of 10 entering yesterday, and tonight still have a chance to win their fourth consecutive series.
Take a listen to Mike Maahs' conversation with manager Michael Collins from before Sunday's loss.
MUSICAL GUEST PART DEUX
Couldn't resist the chance to go with the alternate version of "Wrecking Ball." (By the way, how is their not a Bruce and Miley mashup?) Ms. Cyrus, take it away…
The clash of the TinCaps and Whitecaps concludes tonight at 7:05 on XFINITY Channel 81 and The Fan 1380 ESPN Radio 1380 #rebrand.
For more bad dog puns, and coverage of the TinCaps, follow @John_G_Nolan on Twitter.