Star Wars: The TinCaps Strike Back
Whew. Still trying to exhale after a wild game at Parkview Field on Friday night. Where do we start? The TinCaps beat Lansing, 17-6, but that doesn't tell half of it.
Who would've thought that on Star Wars Night, when Darth Vader threw out the first pitch, Stormtroopers roamed around the park, and Chewbacca led the crowd in "singing" Take Me Out to the Ballgame,  that stuff would seem mundane in comparison to what happened on the field.
We loathe the current "Buzzfeed culture" of lists in place of prose and whatnot, but alas, allow us to be hypocrites here as we jot down some of the oddities from Friday's game:
* 23 Runs (FW: 17 / LAN: 6)
* 23 Hits (FW: 16 / LAN: 7)
* 8 Errors (FW: 1 / LAN: 7)
* 3 wild pitches, including one on strike three by Lansing's Matt Dermody that allowed Adolfo Reina to reach base
* 2 batters hit in the head by pitches (Fort Wayne's Erik Cabrera hit Justin Atkinson; Lansing's Dermody hit Dustin Peterson)
* 2 ejections (Lansing manager John Tamargo Jr. and Dermody)
* Benches clearing after Tamargo, on his way back to the clubhouse, engaged in a verbal altercation with the Fort Wayne dugout)
* Chase Jensen called out for batter's interference when he got in the way of Santiago Nessy, who was trying to throw out Luis Tejada stealing second base
* Tejada and Jensen, in back-to-back at-bats, hitting balls off the top of the wall, coming within inches of home runs
* The Taco Bell Sauce Packet Race starting prematurely during the bottom of the seventh inning when field umpire Chris Lloyd ruled that Lansing center fielder D.J. Davis dropped a Jake Bauer fly ball to center field. Both teams thought the catch was made for the third out of the inning and went into their respective dugouts, only to be called back onto the field, while the racing Taco Bell Sauce Packets, who came storming out from left field, were sent off the field. (The press box also thought the inning was over and went to commercial break.)
Are we forgetting anything? It's probable. In a season that's already seen the longest game in franchise history, as well as games shortened by rain and snow, plus the eruption of a geyser on the field, Friday ranks up there with those others in its absurdity.
Of all those happenings last night, the most lasting image is the benches clearing.
Upon further review, my tweet was inaccurate.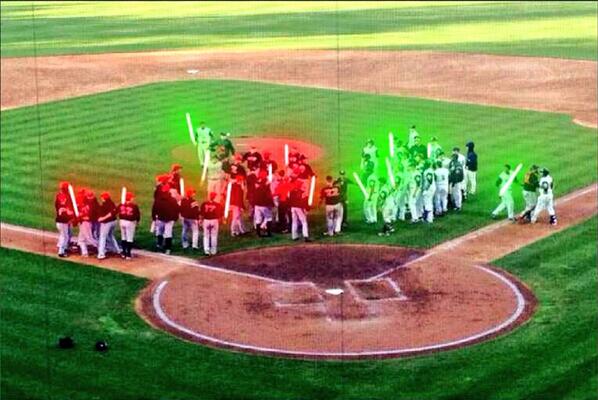 Credit that work to the Photoshop Menace David Hentz, who when he's not turning bats into lightsabers, is the TinCaps Assistant Video Production Manager.
Jokes aside, though, this was disheartening to see unfold from both sides.
Fortunately, Dustin was okay after Dermody's head-hunting. In fact, the third baseman finished the game just a triple shy of the cycle. He now has 3 homers in his last 5 games. But, back to the near-brawl. Peterson had the quote, as reported by The Journal Gazette's Chris Goff.
"Thank goodness I had a helmet on," said Peterson, who hit a three-run shot to left in the second inning. "Pretty messed up. It's complete bush league. If you're going to hit somebody, don't go after his head.

"I have an older brother that's had his jaw broken on a hit by pitch."
That's why this isn't a laughing matter. To state the obvious, a baseball being thrown upwards of 90 miles per hour is a weapon. For what it's worth, Cabrera told Goff he didn't intend to Atkinson. For Dermody, a guy who hadn't hit a batter in 25.0 IP this season and hit only 1 batter in 43.1 IP in 2013, the intention seemed clear. At that point he had allowed 9 runs on 8 hits, had thrown a wild pitch, and just committed an error. He knew he was about to be removed from the game with Roberto Espinosa ready in the bullpen. You can do the math.
We find it silly to think a pitcher ever needs to hit a batter. But for the purposes of this conversation, we won't argue about that right now. There can be no circumstance, though, repeat: no circumstance, in which it is acceptable for a pitcher to throw at a batter's head. We hope there are consequences from the Midwest League Office for Dermody's actions.
And so the shame of an ugly event like that is it overshadows what was a tremendous night for the TinCaps. Especially in a sport like baseball, momentum is difficult to measure. But no doubt, it was encouraging to see how after the brewhaha, Fort Wayne responded with gusto, while Lansing collapsed.
Here's our postgame interview with Peterson (as video-bombed by Josh VanMeter and Jake Bauers) and a recap from Mike Couzens and Dave Doster.
With Peterson, Mallex Smith, Fernando Perez, Reina, and Tejada each providing 3-hit games, the TinCaps set the following season-highs…
* Most Runs (17)
* Largest Margin of Victory (11)
* Most Individual Runs Scored (Smith, Peterson – 4)
* Most Errors by Opponent (7)
* Tie – Most Extra-Base Hits (7)
* Tie – Most Doubles (5)
In particular, it was a welcomed sight to see Tejada's success. From today's Game Notes:
In his first 16 games of the season with the TinCaps, Tejada struggled mightily. The 21-year-old from the Dominican Republic was 10-for-61 (.164) with only 1 extra-base hit, and 5 runs batted in. After he was transferred off Fort Wayne's roster on April 25, Tejada returned to the TinCaps last Wednesday. In his first two games back, the outfielder turned first baseman turned back to outfielder now, went 0-for-9 last weekend at South Bend. He didn't even get an at-bat during Fort Wayne's three-game series at Lake County during the week. But all Tejada's done so far in two games against Lansing is go 6-for-9 with 2 doubles, and 3 runs batted in.
Can ya believe that after a 3 hour, 1 minute game, we couldn't get some fans to leave?
Yep, it was the first of 3 Scout Nights at Parkview Field. The #BIGFUN keeps rolling tonight with a performance on tap from the Russian Bar Trio.
MUSICAL GUEST
With the way this season has gone so far, Randy Newman, take it away…
Thanks for reading (or at least skipping to the bottom). Hope you join us for tonight's 7:05 p.m. game.
Follow @John_G_Nolan for the latest in who knows what bizarre event will happen at Parkview Field next.