Extra Innings? Not This Time. Not Thursday Night.
One night after playing the longest game in franchise history, the TinCaps were on the verge of a second straight extra-inning affair. But on a clear, 65-degree Thursday night at Parkview Field, nine innings ended up being just enough. Dustin Peterson plated Ronnie Richardson on a base-hit to left field in the bottom of the ninth inning to lead Fort Wayne to a walk-off, 6-5, victory over the Peoria Chiefs.
The TinCaps, who lost a 5 hour, 45-minute game to the Burlington Bees the day prior, entered Thursday's ninth inning tied, 5-5. Richardson, who set the University of Central Florida's hit-by-pitch record (65), led off and was promptly plunked by the first pitch thrown by reliever Joe Scanio (0-1). With Richardson at first base, the next batter, Mallex Smith, dropped a bunt down the first-base line that he beat out for a hit, while also advancing Richardson to second. Josh VanMeter then laid down a sacrifice bunt to put both in scoring position. Peoria (8-5) turned to right-handed reliever Zach Loraine to face Peterson.
Peterson swung at the first offering from Loraine and lined it to left field, allowing Richardson to score easily. The TinCaps had their first walk-off win of 2014 and Fort Wayne's dugout raced out onto the field in jubilation. The smiling face of victory, Peterson — selected by the Padres in the 2nd round of the 2013 First-Year Player Draft — received a shaving cream pie-to-the-face as a reward.
Click here to read more or watch our XFINITY recap below.
This is what the face of victory (Petey) looked like: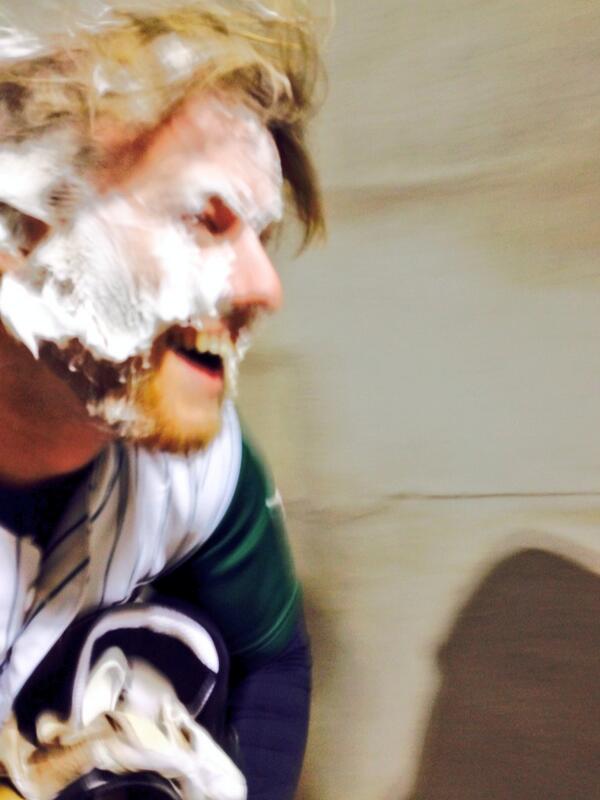 For a team that struggled out of the gates, it was the first moment of true euphoria at Parkview Field this season. (Not to mention, the first night that felt like it was worth a celebration weather-wise, too.) In 2013, the TinCaps had a remarkable 10 walk-off wins. Last night was reminiscent of that fun. Manager Michael "Tubby" Collins put it well afterward.
"That's the first time guys have been that loud and excited after a game. That's a big step in the right direction."
Ronnie Richardson came off the field saying that this was going to be a turning point in the season. Let's find out.
NEWS & NOTES
When the TinCaps opened the season, outfielder Ronnie Richardson was left behind in Peoria, Arizona, in Extended Spring Training. Only when Rey Bruguera was transferred up to Advanced-A Lake Elsinore was Richardson added to Fort Wayne's roster. Well since he arrived on April 8, all he's done is get on base. In 5 games (4 starts), Richardson has an absurd on-base percentage of .682. He's walked in 10 of his 22 plate appearances, while also producing 4 hits and being hit by a pitch. When on base, Richardson has scored 6 runs and stolen 3 bases. And don't forget he even pitched in Thursday's 18-inning game. The Central Florida alum doesn't have enough bats yet to qualify for the Midwest League's official stats (blame all the walks!), but if he did, he'd have the best OBP and would be tied for 4th in walks.
With 2 hits Thursday, Fernando Perez extended his hitting streak to 8 games. That's the longest streak for any TinCap this season. The infielder started 2-for-16 at the plate (.125). But since, Perez is 13-for-39 (.419) with 4 doubles and a home run. The 20-year-old is Fort Wayne's RBI leader so far with 11. No one else has more than 8.
Josh VanMeter has 10 hits this season. Remarkably, 5 of them are doubles. That's tied with Fernando Perez for the team lead in two-baggers. VanMeter collected 2 of those doubles Thursday night in his first 2 at-bats of the game, as he drove in a pair and scored a run.
Fort Wayne had 10 hits Thursday with 9 of them coming from batters 1 through 5 in the order. Mallex Smith, Josh VanMeter, Franmil Reyes, and Fernando Perez each had 2 base-hits, while Dustin Peterson only had 1 — the most critical of them all — a walk-off single in the 9th.
MUSICAL GUEST
Naval Academy baseball players Brad Borosak and Matt Kilby lip-synching Frozen, take it away…
I'm back on the radio side tonight on The Fan 1380 and will be joined by former Philadelphia Phillies infielder Dave Doster. Hope you can tune in for what's sure to be better insights than we typically provide… Thanks for reading. Feel free to be in touch on Twitter @John_G_Nolan.